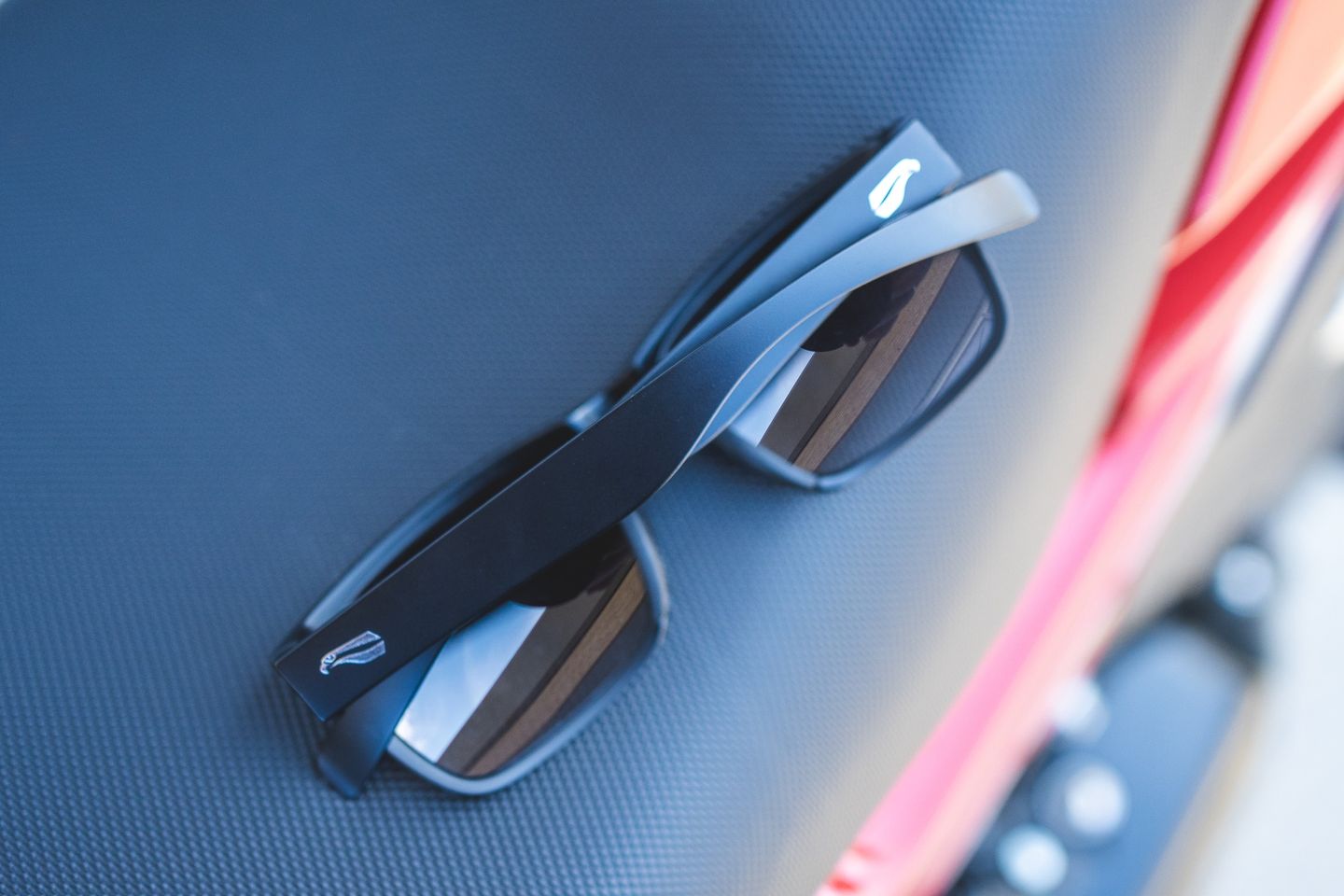 We're as passionate about support as we are about making the most comfortable eyewear on the planet.
Contact Us
We're available Monday - Friday, 9 AM - 5 PM central time. Outside of those hours, we'll try our best to get back to you within a timely manner.
Phone: (512) 213-2390
Email: support@flyingeyesoptics.com
Purchase FAQs
Are Flying Eyes available with Polarized lenses?

Yes, they are however, we advise against their use by pilots as they can interfere with viewing PFDs, MFDs and PDAs. While Polarization is excellent for cutting down on glare in places like when on the water, they provide no additional protection for UV rays. And, all of our lenses (even our clear bifocals) already include 100% UV400 protection.
How do I determine which style of glasses works best for my activity? (flying, motorcycle riding, equestrian, etc.)

All of our glasses are designed specifically for use with a headset or helmet. They're all extremely comfortable, so it just comes down to personal preference. Check out our Recommendations for some advice based on activity or give us a call/text at (512) 213-2390 for some live human help. All of our glasses are guaranteed to be perfect for you. So, when you receive your Flying Eyes glasses, once you try them on, if you decide that you'd prefer another style, just send them back and we'll happily exchange them. The only cost would be any difference in the frame cost compared to the version you initially purchased.
What's the difference between Solid and Gradient Tint lenses?

The Solid tint lenses are the same amount of tint color and density throughout the entire lens, while the gradient tint lenses are darker at the top and a bit lighter at the bottom. The gradient is subtle so outwardly, people won't really notice, but the gradient is very useful for viewing an instrument panel while at the same time blocking harsh sunlight through the windshield.
How long will it take to get my sunglasses?

We do our best to get orders out the door in 2-3 business days each non-holiday weekday. Our standard shipping is USPS Priority Mail for USA shipping and UPS for International shipping (with FedEx as an option for faster shipments at a higher cost).The delivery time will depend on where you are,but we generally see packages arrive within 5 days of the purchase date for USA shipments and 1-2 weeks for international orders.
Can I place an international order?

Yes! We currently only have a few distributors outside the USA. So, if you have a favorite eyewear store in your country, please let them know about us (or let us know about them). Meanwhile, we can ship to most places using our international shipping services. Options and pricing can be calculated during checkout. Find one of our retailers around the world here:
https://flyingeyesoptics.com/find-a-store/
LIMITED LIFETIME WARRANTY
If this warranted product fails due to a material or manufacturing defect we will repair or replace the product at our option. This warranty covers only defects in materials and workmanship. It does not cover accidents, product abuse (including intentional "stress testing" and repeatedly switching out lenses), alteration, negligence and misuse; repair due to such circumstance will be performed at a reasonable charge. To obtain warranty service, the original owner must send the product prepaid-freight with a carrier requiring a signature. This warranty only applies to glasses bought directly from Flying Eyes Optics or Authorized Retailers.
This warranty is in lieu of all other warranties, expressed or implied, except implied consumer warranties required by law. In no event shall Summer Hawk Optics, Inc. be liable for consequential damage or loss of use. Some states do not allow the exclusion or limitation or the exclusion may not apply to you.
This warranty gives you specific legal rights and you may have other rights, prescribed by law, which vary state to state. Some states have laws governing warranty coverage, so the above limitations may not apply to you.
FLYING EYES LIMITED LENS REPLACEMENT GUARANTEE
During the first 90 days of ownership, if you damage your Flying Eyes non-prescription lenses, we will replace them at no charge.
If you damage your non-prescription lenses outside of the lens warranty, you can order replacement lenses. The lenses are easily user replaceable. Order replacement lenses in our store.
Contact us for replacing prescription lenses.
EXTENDED WARRANTY WITH PRODUCT REGISTRATION
We will extend your accidental lens replacement guarantee and cover accidents and mishaps for your frames for ONE YEAR if you register your product HERE within 30 days of purchase.
REFUND POLICY
We offer 30 Day Money Back Guarantee on our non-prescription eyewear and accessories.
There is no refund on prescription lenses as they are custom made to your eyes. However, our lab will re-make prescription lenses at no additional cost (other than shipping the Rx eyewear back to us) for any reason within 30 days of receipt of your prescription lenses.
Please contact customer service at Support@FlyingEyesOptics.com or 512-213-2390, in advance to obtain instructions on returning an item within 30 days of purchase.
You may return undamaged, non-custom items within 30 days of delivery for a refund of the item plus applicable tax (we do not refund the shipping cost or provide a return label). If your order received a volume-based discount and your return disqualifies you for that discount, you will be refunded the cost of the product minus the discount received. This does not apply to affiliate coupons. We'll pay the return shipping costs if the return is a result of our error.
We're also happy to exchange your glasses if you'd like to try a different style! Please send your exchange with the case! You'll get a new case and microfiber bag/cloth along with your new pair. You should expect to receive your refund within four weeks of giving your package to the return shipper, however, in many cases you will receive a refund more quickly. This time period includes the transit time for us to receive your return from the shipper (5 to 10 business days), the time it takes us to process your return once we receive it (3 to 5 business days), and the time it takes your bank to process our refund request (5 to 10 business days).
If you need to return an item, please Contact Us with your order number and details about the product you would like to return. We will respond quickly with instructions for how to return items from your order. If you are collecting a warranty claim, you will pay return shipping to us for the defect product, and we will pay the shipping to you for your replacement parts/glasses. Gift certificates are non-transferrable and are subject to the same 30-day return window as physical products. The person who purchased the gift certificate must initiate a refund, and the payment will be returned to the same account/card used to purchase it. Prescription lens orders are final. If you receive your frame for lens marking and decide to not move forward with prescription lenses, we will refund your entire order (minus the shipping fee). If you are unsatisfied with the frame after you receive your finished prescription pair, we're happy to issue a partial refund for the cost of the frame. We cannot refund prescription lenses, though if there's something wrong with your lenses when they arrive, please let us know within 30 days so we can fix them for you!
If you're in the US and your pair doesn't fit quite how you expected or you'd like a different lens color or bifocal height, we would love to do an exchange for you within 30 days of delivery! You'll pay for shipping them back to us, and we'll pay the shipping to send your new pair/lenses. Please request an exchange by sending us an email at support@flyingeyesoptics.com, chatting with us live here on the website, or giving us a call at (512) 213-2390.
International exchanges are generally not accepted due to the high shipping costs and the cost of customs duties. Please contact us to discuss your options if you're a non-US customer looking for an exchange.
We can ship to virtually any address in the world. Note that there are restrictions on some products, and some products cannot be shipped to international destinations. Customer is responsible for any customs duties.
All non-prescription orders are typically fulfilled in 2-4 business days. If you would like to have your order fulfillment expedited for an additional charge, please reach out to support@flyingeyesoptics.com to coordinate your shipping request. Depending on the shipping provider you choose, shipping date estimates may appear on the shipping quotes page. Domestic shipments are sent via USPS Priority Mail by default, and delivery typically takes between 3 and 6 business days once shipped. Fed-Ex 2-Day shipments can be expected within 2 business days once shipped. Please be aware that once the package leaves our warehouse we do not have control over shipping times and that shipping during holiday rush dates is likely to take more time than usual. Shipping estimates are not guarantees. We recommend ordering by December 10th to guarantee domestic delivery by Christmas.
We often tell our customers that with our lifetime frame warranty "You'll never have to buy a new pair unless you lose them or want another pair."
To help with that first issue, we decided to offer the option to purchase Loss Protection with any non-prescription pair of Flying Eyes purchased directly from us (not available for pairs purchased through one of our retail partners)
This is available for new pairs and any other pair you may already have. You may only claim a Loss once per pair, within 2 years of purchase, so be sure you get protection for each pair you'd like to cover.This coverage only applies to frames with non-prescription lenses you buy directly from us and cannot apply to third party lenses.If you'd like to submit a Loss claim, please email us at support@flyingeyesoptics.com (or fill out this form) with your order confirmation of this insurance.