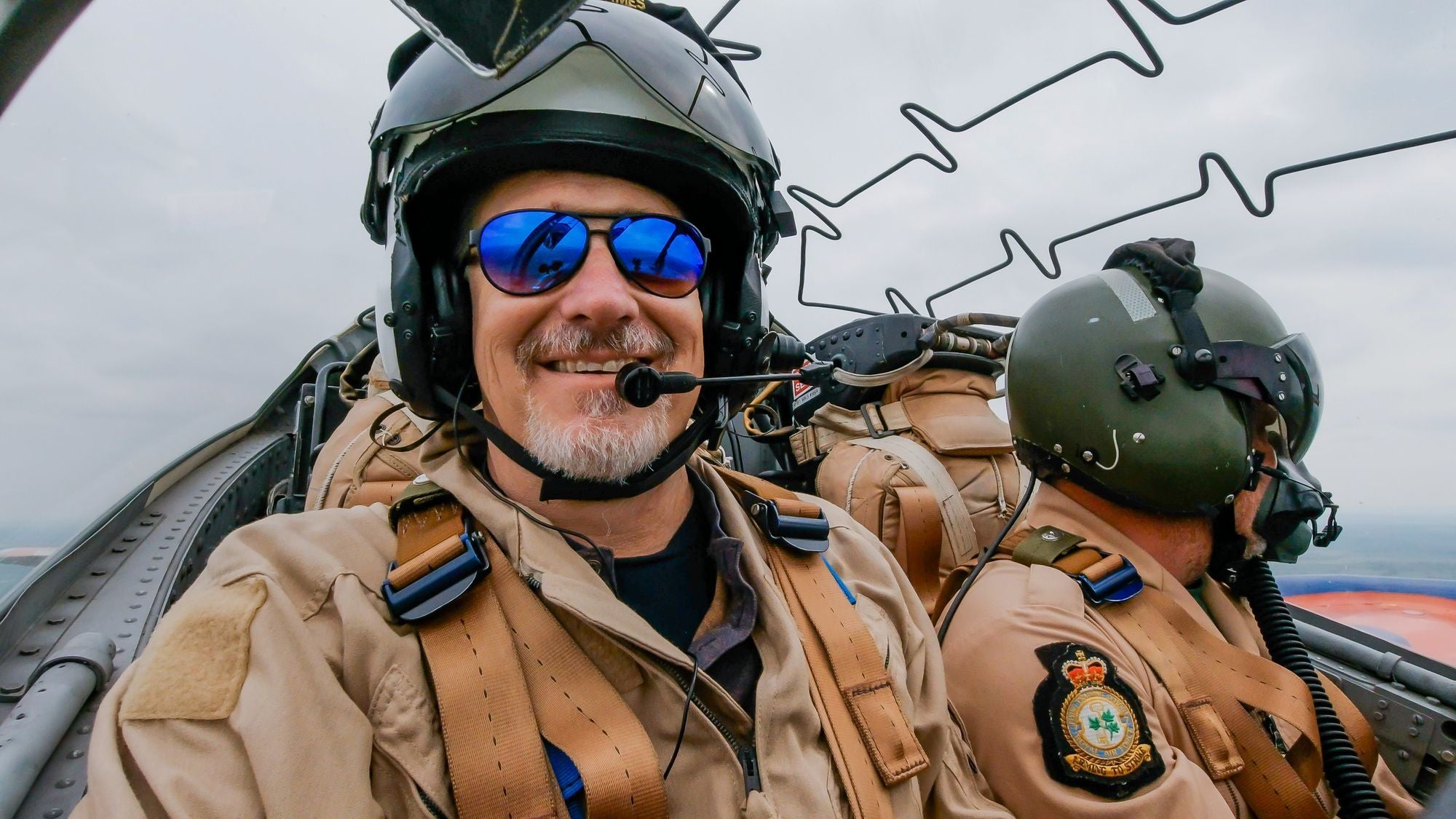 Have a question about our glasses? Learn more about our styles, sizes, and lenses.
All Flying Eyes are prescription compatible! For optimum clarity and safety, we recommend asking your optician to use Trivex lenses – an exceptionally clear, lightweight, and impact-resistant material – a perfect complement lens to your Flying Eyes.
Product FAQs
I (fly airplanes, ride motorcycles, etc…), and I'm wondering which frame style would be best for me?

All of our glasses are designed specifically for use with a headset or helmet. They're all extremely comfortable, so it just comes down to personal preference. See the Style Guide below for some advice based on activity or give us a call/text at (512) 213-2390 for some live human help. All of our glasses are guaranteed to be perfect for you. So, when you receive your Flying Eyes glasses, once you try them on, if you decide that you'd prefer another style, just send them back and we'll happily exchange them. The only cost would be any difference in the frame cost compared to the version you initially purchased.
Are Flying Eyes available for men and women?

Yes! All of our frame styles look great on both men and women.
Can you do prescription lenses in house?

Yes! Putting prescription lenses into sunglass frames is complicated since the lenses have many curves to them. Because of this, it requires additional measurements that must be done while wearing the glasses. It's for this reason that it's much easier to have a local optician manage the entire process, but we do offer prescription lenses for those who can't have it done locally or would prefer to do it online.

Visit our Prescription Support page for more information.
I have a large/small, which frames would be best for me?

See our sizing guide. In general, for wide heads & faces we recommend the Kingfisher, Cooper Aviator, or Luzon. For narrow heads & faces we recommend the Kestrel Aviator or the narrow Golden Eagle frames.
Are Flying Eyes available with Polarized lenses?

Yes, we do have some polarized lens options. However, we advise against their use by pilots as they can interfere with viewing PFDs, MFDs and PDAs. While Polarization is excellent for cutting down on glare in places like when on the water, they provide no additional protection from UV rays. And, all of our lenses (even our clear bifocals) already include UV400 protection.
What's the difference between Solid and Gradient Tint lenses?

The Solid tint lenses are the same amount of tint color and density throughout the entire lens, while the Gradient tint lenses are darker than standard at the top and lighter than standard at the bottom. The gradient is subtle, so outwardly people won't really notice, but the gradient is very useful for viewing an instrument panel, kneeboard, iPad, etc. while at the same time blocking harsh sunlight through the windshield.
Aviation
Polarized lenses aren't recommended for pilots due to the angle of light blocking they provide by design. Unfortunately that blocked angle often makes your instrument panel hard (or even impossible) to read. Luckily, we don't need polarization to block 100% of UV light, even with our clear and lightly tinted lenses. Gradient lenses are recommended for pilots so it's even easier to read your instruments.
Check out Our Lenses to see the visible light transmittance (the lower the number, the darker the lens) of each of our lens options.
The standard size Golden Eagle Sport is a safety-rated frame that blocks peripheral light in a bright flying environment with its high-wrap shape. Beyond that, all of our frames are optimized for pilots.
Popular Aviation Frames:

Standard Golden Eagle

$219
Motorcycling
Polarized lenses also aren't recommended for motorcycles since they can make it more difficult to see other vehicles or road obstructions. We recommend solid tint lenses, to provide full shade coverage, for motorcycling and other motorsports.
Our Mirrored Rose lens is an excellent choice for a high-contrast, rose-tinted lens that helps you see road obstructions and other motorists.
With the extremely well-fitted nature of modern motorcycling helmets, sizing is very important for making sure you have a comfortable fit from your frames. Check out our Sizing page, and Let Us Know if you have any questions about which size is best for you.
Popular Motorcycling Frames:
All of our frames are super comfortable, but the styles do vary in width. Here's some information on sizing to help you choose the best style for you. While these seem very close in size, only a few centimeters can make a difference when you're talking about how sunglasses look on you. We suggest measuring the distance between your temples, where the front of your ANR ear cups would sit. We've provided that measurement for each of our frame styles (temple distance). The closer that measurement is to yours, the better they will fit.
While the focus of our mission is frames that fit comfortably and seamlessly under headsets and helmets, we also make sure that we're offering quality lenses that are safe, clear, and true to color.
We strive to provide lenses with excellent clarity without sacrificing durability or color accuracy. Glass tends to be fragile, so we use shatterproof polycarbonate for all of our lenses.
All of our lenses are made of shatter resistant polycarbonate and are 100% UVA/UVB blocking (even the clear and yellow tints).